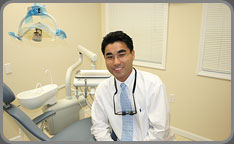 Dr. Christopher S. Choe was raised in Queens, New York.  He completed his undergraduate studies with honors at the University of Chicago, and he attained his DMD degree from Tufts University School of Dental Medicine, where he graduated at the top of his class.   Tufts is nationally ranked as one of the top ten dental schools in the country, and it is widely respected for its exceptional dental training.

Dr. Choe has been named to the prestigious dental honor society Omnicron Kappa Alpha.  He is also a member of the American Dental Association, New York State Dental Association, and the Second District Dental Society.  These professional memberships combined with continuing education courses help Dr. Choe stay abreast of the latest dental advancements, procedures, and equipment.

Together with his staff, Dr. Choe understands that people have busy lives, limited budgets and more often than not dental anxieties.  Dr. Choe's caring attitude and gentle manner help patients feel at ease.  Dr. Choe also takes great pride in providing excellent dental care during convenient hours and in an unrushed, relaxed setting.

We look forward to treating you and your family!